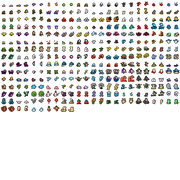 There are a total of 184 Monsters in Minute Quest. Normal encounters are monster in which you should encounter between dungeons and special locations. Bosses can be found at the end of special locations and dungeons.
Whether or not a monster has intelligence or strength as a stat is the method it attacks in. If the monsters method is Magic, it attacks with intelligence. If it has physical as its method, it attacks with strength. If a monster has both as a method, the strength stat is only shown but has a chance to deal equal damage as magic and has a 50% chance to strike as magical or physical.
In the below list, only "base" stats are shown. For most monsters these stats are around the value 100. The Power and Speed stats are shown on the Pets' card, and the vitality stat can be derived from monsters in the field.
The formula for getting a monster's stat based on its level is:
finalstat = basestat×level×(1+0.003×level)×0.06
give or take rounding errors
Where "level" is actually offset by one: EG: To get the stat of a level 231 monster, apply the formula to 230.
Note: Monsters have a "Vitality" stat. Apply ×5 to get the monster's maximum HP.
List of Monsters
Edit
Below is a list of all monsters in Minute Quest. To find the first appearance of a monster, then refer to Pets. To see all appearances of a monster, see Distance.
Only the "Tech" weakness is listed in this table. Indeed, the elemental weakness of a monster can be inferred from its attribute.
Overworld
Edit
| NAME | Name | ATTR | Method | Vitality | Power | Speed | Weakness |
| --- | --- | --- | --- | --- | --- | --- | --- |
| SLIME | Slime | NORMAL | PHYSIC | 50 | 70 | 30 | BOMB |
| ANTAGONY | Antagony | NORMAL | PHYSIC | 65 | 80 | 40 | STAB |
| HELLHARE | Hell Hare | NORMAL | PHYSIC | 70 | 60 | 80 | STAB |
| HOTSTUFF | Hot Stuff | FIRE | MAGIC | 85 | 90 | 70 | FURY |
| SPIDER | Spider | NORMAL | PHYSIC | 90 | 95 | 90 | BASH |
| EYEGUY | Eye Guy | ELEC | MAGIC | 75 | 100 | 92 | BOMB |
| MINIBEAR | Mini Bear | NORMAL | PHYSIC | 108 | 100 | 90 | JAB |
| BAT | Bat | DARK | PHYSIC | 80 | 90 | 100 | BASH |
| MUDDY | Muddy | EARTH | PHYSIC | 106 | 102 | 90 | BOMB |
| GARGOYLE | Gargoyle | NORMAL | PHYSIC | 100 | 105 | 98 | BOMB |
| GRIMMY | Grimmy | DARK | PHYSIC | 102 | 100 | 94 | FURY |
| KILLABEE | Killabee | ELEC | PHYSIC | 70 | 108 | 110 | STAB |
| TRIFFID | Triffid | EARTH | PHYSIC | 108 | 96 | 96 | BOMB |
| BULBEYE | Bulbeye | EARTH | MAGIC | 102 | 102 | 94 | BOMB |
| GIRAFFE | Giraffe | NORMAL | PHYSIC | 104 | 108 | 86 | BASH |
| HARPIE | Harpie | ELEC | PHYSIC | 96 | 98 | 112 | BASH |
| BEETLE | Beetle | EARTH | PHYSIC | 98 | 102 | 98 | JAB |
| TREEVIL | Treevil | EARTH | PHYSIC | 110 | 98 | 92 | STAB |
| P.SHROOM | Pink Shroom | LIGHT | PHYSIC | 94 | 90 | 102 | JAB |
| STUMPY | Stumpy | EARTH | PHYSIC | 104 | 102 | 92 | STAB |
| MAGMAN | Mag Man | FIRE | MAGIC | 100 | 102 | 98 | FURY |
| COOL GUY | Cool Guy | ICE | MAGIC | 102 | 100 | 98 | FURY |
| MEGASLUG | Mega Slug | NORMAL | PHYSIC | 104 | 108 | 92 | BASH |
| MERMAN | Merman | WATER | PHYSIC | 100 | 104 | 94 | STAB |
| SHEEPISH | Sheepish | NORMAL | PHYSIC | 102 | 102 | 98 | STAB |
| OSTRICH | Ostrich | NORMAL | PHYSIC | 76 | 96 | 120 | BASH |
| GOLEM | Golem | EARTH | PHYSIC | 120 | 112 | 80 | BOMB |
| LAVAGLOB | Lava Glob | FIRE | BOTH | 102 | 104 | 92 | FURY |
| BESERKER | Berserker | NORMAL | PHYSIC | 96 | 112 | 90 | STAB |
| CHIMERA | Chimera | ELEC | PHYSIC | 94 | 106 | 104 | STAB |
| LICKY | Licky | WATER | PHYSIC | 108 | 98 | 94 | STAB |
| SKELETON | Skeleton | DARK | PHYSIC | 96 | 106 | 99 | BASH |
| ZOMBIE | Zombie | DARK | PHYSIC | 126 | 102 | 86 | STAB |
| WRAITH | Wraith | ICE | MAGIC | 82 | 108 | 108 | BOMB |
| DEATHGOD | Death God | DARK | PHYSIC | 90 | 102 | 112 | FURY |
| UNDINE | Undine | WATER | MAGIC | 86 | 114 | 98 | JAB |
| MR.GERMS | Mr. Germs | EVIL | PHYSIC | 92 | 106 | 106 | JAB |
| CENTAUR | Centaur | NORMAL | PHYSIC | 108 | 100 | 106 | STAB |
| DRAGON | Dragon | FIRE | PHYSIC | 114 | 112 | 96 | JAB |
| DAEMON | Daemon | DARK | BOTH | 96 | 104 | 106 | BASH |
| SIRSLIME | Sir Slime | NORMAL | PHYSIC | 90 | 92 | 110 | JAB |
| PUMPKIN | Pumpkin | EARTH | PHYSIC | 108 | 102 | 94 | BASH |
| DWARF | Dwarf | NORMAL | PHYSIC | 70 | 94 | 132 | STAB |
| TROLL | Troll | NORMAL | PHYSIC | 118 | 108 | 84 | JAB |
| FLY EYE | Fly Eye | ELEC | PHYSIC | 94 | 106 | 104 | STAB |
| TORNADO | Tornado | ELEC | PHYSIC | 100 | 98 | 102 | FURY |
| EATROOT | Eat Root | EARTH | PHYSIC | 90 | 110 | 98 | STAB |
| B.KNIGHT | Black Knight | DARK | PHYSIC | 104 | 108 | 96 | STAB |
| OCTOPUS | Octopus | WATER | PHYSIC | 108 | 102 | 98 | JAB |
| SQUID | Squid | WATER | PHYSIC | 108 | 98 | 102 | STAB |
| MERMAID | Mermaid | WATER | PHYSIC | 100 | 98 | 98 | STAB |
| WISP | Wisp | LIGHT | MAGIC | 90 | 110 | 102 | FURY |
| ICEBIRD | Ice Bird | ICE | PHYSIC | 96 | 104 | 108 | BOMB |
| BEHEMOTH | Behemoth | NORMAL | PHYSIC | 126 | 124 | 94 | JAB |
| GRIFFON | Griffon | NORMAL | PHYSIC | 98 | 104 | 102 | STAB |
| G.SLIME | Green Slime | EARTH | PHYSIC | 90 | 94 | 98 | STAB |
| MINOTAUR | Minotaur | NORMAL | PHYSIC | 102 | 108 | 100 | JAB |
| SNOWMAN | Snowman | ICE | PHYSIC | 104 | 100 | 94 | BOMB |
| SORCERER | Sorcerer | ICE | MAGIC | 94 | 104 | 102 | STAB |
| G.SHROOM | Green Shroom | EARTH | PHYSIC | 84 | 102 | 96 | JAB |
| MUDMAN | Mudman | EARTH | PHYSIC | 110 | 104 | 94 | FURY |
| MUMMY | Mummy | DARK | PHYSIC | 120 | 104 | 96 | BOMB |
| TERRAPIN | Terrapin | WATER | PHYSIC | 124 | 110 | 80 | BASH |
| S.DRAGON | Sky Dragon | NORMAL | MAGIC | 112 | 104 | 100 | STAB |
| FALLEN | Fallen | LIGHT | BOTH | 98 | 100 | 102 | BOMB |
| EVILEYE | Evil Eye | EVIL | MAGIC | 90 | 114 | 102 | JAB |
| G.KNIGHT | Gold Knight | NORMAL | PHYSIC | 104 | 102 | 98 | STAB |
| FYRGOLEM | Fire Golem | FIRE | BOTH | 118 | 114 | 82 | FURY |
| WITCHER | Witcher | NORMAL | PHYSIC | 100 | 102 | 96 | STAB |
| DETHROOT | Death Root | EARTH | PHYSIC | 110 | 94 | 98 | STAB |
| B.SHROOM | Black Shroom | DARK | PHYSIC | 86 | 98 | 94 | JAB |
| PHOENIX | Phoenix | FIRE | BOTH | 94 | 104 | 106 | FURY |
| AHRIMAN | Ahriman | EVIL | BOTH | 96 | 108 | 102 | JAB |
| MEDUSA | Medusa | EVIL | MAGIC | 104 | 110 | 96 | STAB |
| ZOMBLE | Zomble | DARK | PHYSIC | 114 | 108 | 92 | FURY |
| Y.DRAGON | Yellow Dragon | ELEC | PHYSIC | 110 | 102 | 102 | JAB |
| BIRD | Bird | LIGHT | PHYSIC | 96 | 104 | 102 | JAB |
| BLADE | Blade | NORMAL | PHYSIC | 100 | 118 | 100 | BASH |
| CERBERUS | Cerberus | EVIL | PHYSIC | 96 | 108 | 106 | STAB |
| POOSLIME | Poo Slime | NORMAL | PHYSIC | 70 | 90 | 94 | BOMB |
| MAGNEYE | Magneye | NORMAL | MAGIC | 98 | 102 | 100 | BOMB |
| DETHMAGE | Death Mage | EVIL | MAGIC | 94 | 108 | 98 | STAB |
| D.KNIGHT | Dark Knight | ICE | PHYSIC | 98 | 102 | 100 | FURY |
| SATAN | Satan | EVIL | BOTH | 100 | 104 | 102 | JAB |
| SCORPION | Scorpion | EVIL | PHYSIC | 104 | 102 | 100 | BASH |
| GASCLOUD | Gas Cloud | FIRE | MAGIC | 90 | 104 | 106 | FURY |
| MAGSLIME | Magma Slime | FIRE | PHYSIC | 90 | 94 | 98 | FURY |
| ROT GOD | Rot God | DARK | PHYSIC | 112 | 108 | 96 | FURY |
| MASK | Mask | EVIL | MAGIC | 94 | 102 | 102 | BASH |
| GREMLIN | Gremlin | EVIL | PHYSIC | 96 | 98 | 104 | JAB |
| U JELLY | U Jelly | LIGHT | MAGIC | 88 | 96 | 100 | STAB |
| POLAR B. | Polar Bear | ICE | PHYSIC | 110 | 112 | 96 | BASH |
| DRACOMAN | Draco Man | NORMAL | PHYSIC | 100 | 108 | 102 | STAB |
| NITEMARE | Night Mare | FIRE | MAGIC | 98 | 104 | 102 | JAB |
| LIONEL | Lionel | NORMAL | PHYSIC | 104 | 106 | 100 | JAB |
| NITEBIRD | Night Bird | DARK | PHYSIC | 94 | 102 | 108 | JAB |
| SHOCKER | Shocker | ELEC | MAGIC | 100 | 100 | 108 | STAB |
| ZAPGOLEM | Zap Golem | ELEC | BOTH | 116 | 114 | 84 | BASH |
| GENIE | Genie | EVIL | BOTH | 98 | 100 | 104 | STAB |
| SKELLIOR | Skellior | DARK | PHYSIC | 96 | 108 | 94 | FURY |
| SNOWGLOB | Snow Glob | ICE | PHYSIC | 104 | 102 | 94 | FURY |
| GARUDA | Garuda | ELEC | PHYSIC | 98 | 108 | 112 | JAB |
| EYECICLE | Eyecicle | ICE | MAGIC | 90 | 106 | 106 | BOMB |
| VIOLANT | Violant | EVIL | PHYSIC | 90 | 102 | 98 | BASH |
| SHLSLIME | Shell Slime | WATER | PHYSIC | 110 | 94 | 94 | BASH |
| ICEGOLEM | Ice Golem | ICE | BOTH | 124 | 108 | 84 | BASH |
| UNICORN | Unicorn | LIGHT | MAGIC | 98 | 100 | 106 | JAB |
| GAMEOGRE | Game Ogre | NORMAL | PHYSIC | 116 | 118 | 90 | JAB |
| MADBIRD | Mad Bird | FIRE | PHYSIC | 82 | 100 | 120 | BASH |
| EELY DAN | Eely Dan | LIGHT | PHYSIC | 90 | 94 | 110 | STAB |
| B.DRAGON | Blue Dragon | ICE | MAGIC | 108 | 108 | 102 | JAB |
| FIREZARD | Firezard | FIRE | BOTH | 96 | 112 | 104 | BASH |
| MERDINE | Merdine | WATER | MAGIC | 110 | 110 | 100 | JAB |
| GNOME | Gnome | EARTH | PHYSIC | 130 | 108 | 96 | BOMB |
| WYBURN | Wyburn | ELEC | BOTH | 100 | 102 | 112 | JAB |
| SAKURA | Sakura | EARTH | PHYSIC | 122 | 96 | 90 | STAB |
| DUOSLIME | Duo Slime | NORMAL | PHYSIC | 160 | 100 | 100 | BOMB |
| DEATHBUG | Death Bug | NORMAL | PHYSIC | 100 | 100 | 110 | STAB |
| YETI | Yeti | ICE | PHYSIC | 110 | 110 | 95 | STAB |
| GOLEMECH | Golemech | ELEC | PHYSIC | 115 | 105 | 98 | BOMB |
| MONKEY | Monkey | NORMAL | PHYSIC | 100 | 102 | 102 | JAB |
| POKEY | Pokey | EARTH | PHYSIC | 95 | 100 | 100 | STAB |
| BUBBLES | Bubbles | WATER | MAGIC | 90 | 110 | 100 | BOMB |
| P.SPIDER | Pink Spider | NORMAL | PHYSIC | 100 | 100 | 100 | BASH |
| GECKOMAN | Gecko Man | WATER | PHYSIC | 110 | 112 | 110 | STAB |
| BAAL | Baal | NORMAL | PHYSIC | 96 | 104 | 130 | STAB |
| HANDSEL | Handsel | DARK | PHYSIC | 106 | 130 | 120 | FURY |
| AMMONITE | Ammonite | WATER | BOTH | 130 | 110 | 100 | BASH |
| LAMIA | Lamia | EVIL | MAGIC | 106 | 120 | 100 | STAB |
| CYCLOPS | Cyclops | NORMAL | PHYSIC | 118 | 126 | 90 | JAB |
| POKEKING | Poke King | EARTH | PHYSIC | 120 | 104 | 100 | STAB |
| LUMINOS | Luminos | FIRE | PHYSIC | 104 | 112 | 108 | BASH |
| CAVALROS | Cavalros | EVIL | PHYSIC | 112 | 114 | 110 | JAB |
| REDDEVIL | Red Devil | NORMAL | PHYSIC | 114 | 110 | 100 | STAB |
| BLUDEVIL | Blue Devil | NORMAL | PHYSIC | 114 | 100 | 110 | JAB |
| SPIRIT | Spirit | DARK | MAGIC | 100 | 120 | 110 | FURY |
| BLACKCAT | Black Cat | DARK | PHYSIC | 98 | 96 | 130 | BASH |
| WITCH | Witch | EVIL | MAGIC | 102 | 130 | 110 | STAB |
| PHANTOM | Phantom | DARK | MAGIC | 108 | 118 | 100 | FURY |
| FLYME | Flyme | NORMAL | PHYSIC | 110 | 110 | 120 | BOMB |
| SKRAGGON | Skraggon | DARK | BOTH | 120 | 124 | 110 | FURY |
| BALLOON | Balloon | NORMAL | PHYSIC | 100 | 120 | 120 | JAB |
| STRAWBY | Strawby | EARTH | PHYSIC | 130 | 110 | 100 | BASH |
| PAKUPAKU | Pakupaku | EARTH | PHYSIC | 124 | 130 | 100 | STAB |
| MANTIS | Mantis | NORMAL | PHYSIC | 100 | 132 | 110 | BASH |
| FLYRREL | Flyrrel | NORMAL | PHYSIC | 110 | 100 | 134 | JAB |
| SOCKET | Socket | DARK | BOTH | 104 | 100 | 114 | JAB |
| KAPPA | Kappa | WATER | BOTH | 124 | 116 | 106 | BASH |
| EYEROLL | Eyeroll | FIRE | BOTH | 110 | 120 | 116 | BASH |
| LANTERN | Lantern | FIRE | MAGIC | 104 | 126 | 110 | FURY |
| SNOWGIRL | Snow Girl | ICE | MAGIC | 108 | 120 | 118 | BOMB |
| BROLLY | Brolly | DARK | PHYSIC | 100 | 116 | 122 | STAB |
| EBIFURAI | Ebi Furai | NORMAL | PHYSIC | 110 | 115 | 115 | JAB |
| FLEA | Flea | WATER | MAGIC | 100 | 120 | 125 | STAB |
| SHELLMET | Shell Met | WATER | BOTH | 140 | 110 | 105 | BASH |
| HERMIT | Hermit | WATER | PHYSIC | 120 | 125 | 110 | BASH |
| DARTFISH | Dart Fish | WATER | PHYSIC | 100 | 130 | 120 | STAB |
| GOBLIN | Goblin | NORMAL | PHYSIC | 120 | 125 | 105 | JAB |
| HELLMOUTH | Hell Mouth | DARK | BOTH | 150 | 120 | 100 | FURY |
| TREX | T-Rex | FIRE | PHYSIC | 140 | 130 | 95 | JAB |
| ROLLMAN | Roll Man | EARTH | PHYSIC | 170 | 130 | 80 | FURY |
Rare Monsters
Edit
| NAME | Name | ATTR | Method | Vitality | Power | Speed | Weakness |
| --- | --- | --- | --- | --- | --- | --- | --- |
| ORESLIME | Ore Slime | NORMAL | PHYSIC | ??? | 100 | 230 | ??? |
| ORE KING | Ore King | NORMAL | PHYSIC | ??? | 110 | 200 | ??? |
| MIMIC | Mimic | EVIL | BOTH | ??? | 104 | 100 | ??? |
| DR.GILL | Dr. Gill | WATER | PHYSIC | ??? | 100 | 100 | ??? |
| NAME | Name | ATTR | Method | Vitality | Power | Speed | Weakness |
| --- | --- | --- | --- | --- | --- | --- | --- |
| CANNIBIS | Cannibis | EARTH | PHYSIC | 180 | 160 | 114 | STAB |
| WIGHT | Wight | ICE | MAGIC | 120 | 150 | 124 | BASH |
| OCTOBLUE | Octoblue | WATER | PHYSIC | 180 | 180 | 110 | STAB |
| DEVIL | Devil | NORMAL | PHYSIC | 170 | 160 | 120 | JAB |
| VOLCANIS | Volcanis | FIRE | BOTH | 200 | 220 | 100 | FURY |
| SHADY | Shady | DARK | MAGIC | 160 | 100 | 130 | BOMB |
| LUCIFER | Lucifer | EVIL | BOTH | 180 | 200 | 120 | STAB |
| LUCIFERX | Lucifer X | ELEC | PHYSIC | 200 | 210 | 110 | BOMB |
| DUMBO | Dumbo | NORMAL | PHYSIC | 190 | 140 | 104 | JAB |
| SANDWYRM | Sandwyrm | EARTH | PHYSIC | 210 | 150 | 96 | BOMB |
| PEACHES | Peaches | WATER | MAGIC | 160 | 180 | 100 | BOMB |
| FRANKIE | Frankie | DARK | PHYSIC | 200 | 170 | 104 | FURY |
| UFO | UFO | LIGHT | MAGIC | 150 | 120 | 120 | BOMB |
| KONG | Kong | NORMAL | PHYSIC | 210 | 180 | 100 | JAB |
| VULPUS | Vulpus | FIRE | BOTH | 180 | 160 | 114 | BASH |
| LEVIOTH | Levioth | WATER | BOTH | 170 | 165 | 120 | STAB |
| TURTLOS | Turtlos | EARTH | PHYSIC | 200 | 200 | 100 | BOMB |
| KING | King | LIGHT | BOTH | 180 | 170 | 190 | STAB |
| DOSSBOSS | Doss Boss | EVIL | BOTH | 200 | 200 | 200 | NONE |
See also
Edit